We are here for Phase 4
We can still meet outside till then --
Let Me Know !
917-375-6086
FIRST:

Thanks to VERY RECENT DONORS, card buyers,
and helpers online and in the studio and out-of-doors, and to others for keeping me healthy: Nancy Bass, Andrew Bolotowsky (flute), Brucius, Jeryl Castro, Tomas Daskam, Karen Konicke, Gordon Fitch, Katsu Goto, Alexandra Grannis, Vadim Krol, Talia Lempert, Ro Lohin, Darlene Mayser, Luca Mosca (repeat), Scott Moy, Kate Norberg, Tom Regan (repeat), Judy Russell, Beverly Tall, Carl and Thelma Stone (repeat), Susan Yung, and a generous anonymous New Yorker who sent me some crisp hundred dollar bills in an envelope.
Thank you.

SECOND:

please let me know ASAP, inside or outside?
if you are ready to draw indoors, or if you would rather draw out-of-doors in the Broome Street Corridor of Sara Delano Roosevelt Park.
I am making decisions right now about how to most effectively continue the mission of the studio to provide the Public with both instructed and non-instructed sessions with live models at a reasonable cost, or, in the case of out-of-door sessions, FREE, at no cost at all.
See the photos below of last Saturday's session in the park. LONG POSE artists gracefully and heroically drew through the rain.
I sense that there is still much deep fear of the virus among the artists who draw in the studio. We can and will continue to offer out-of-door sessions during the summer and early fall, the weather and God willing.
We have a new schedule for indoor sessions.

To RESPOND to Minerva: indoor or outdoor, days and hours:
917-375-6086 text or phone call --
springstudio@earthlink.net

THIRD:

RECOMMENDED for you to watch on You Tube
Lex Fridman and Eric Weinstein in timely
intelligent conversation for two hours and 46 minutes:
https://www.youtube.com/watch?v=rIAZJNe7YtE

OUTLINE:
0:00 - Introduction 2:08 - World War II and the Coronavirus Pandemic 14:03 - New leaders 31:18 - Hope for our time 34:23 - WHO 44:19 - Geometric unity 1:38:55 - We need to get off this planet 1:40:47 - Elon Musk 1:46:58 - Take Back MIT 2:15:31 - The time at Harvard 2:37:01 - The Portal 2:42:58 - Legacy

LAST BUT NOT LEAST:

Photos from last Saturday:
It rained for twenty minutes but everyone kept on drawing

PHOTOS: Liliya Skubish
Earlier it was sunny

PHOTO Karen Konicke
LEFT to RIGHT: Andrew Bolotowsky, Liliya Skubish, Minerva Durham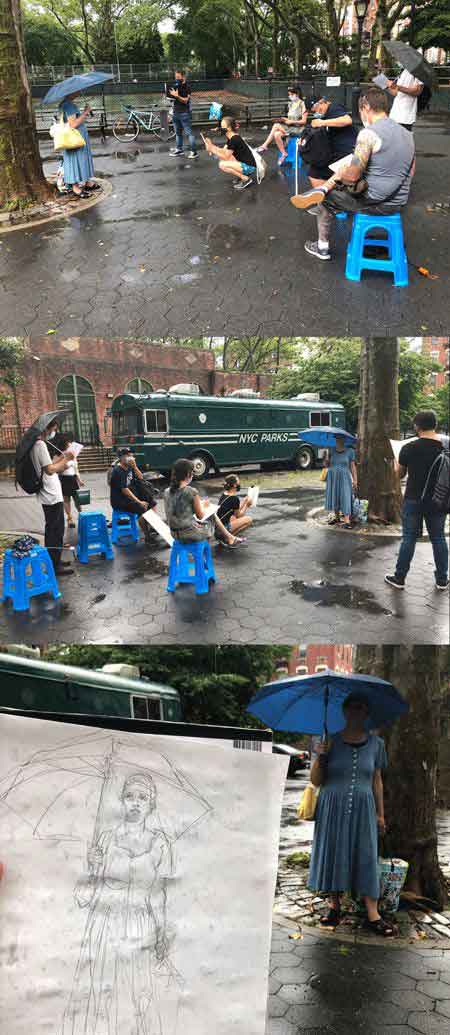 PHOTOS: Liliya Skubish
Earlier it was sunny
Drawing in the Rain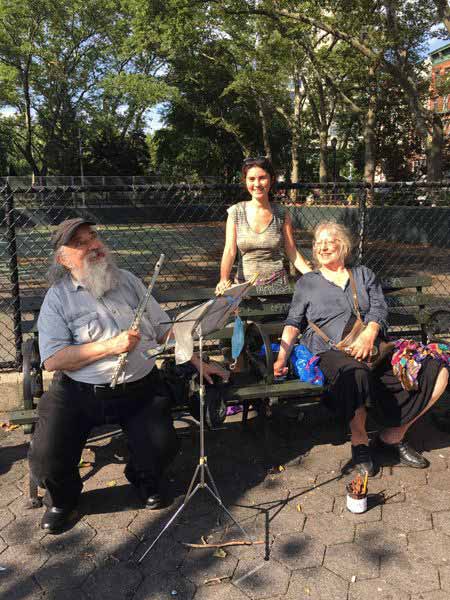 PHOTO Karen Konicke
LEFT to RIGHT: Andrew Bolotowsky, Liliya Skubish, Minerva Durham