NY Arts - City Art - SPRING STUDIO
Bob DeNiro Sr.
Minerva Durham, aka Minerva SoHo
---
What a handsome man he was when I first saw him in the autumn of 1977 standing in the kitchen of his ex-wife, Virginia Admiral, in her loft on the corner of Spring and Lafayette in SoHo, New York City. Tall, lean, somewhat rugged but graceful, Bob De Niro Sr. had a full head of brown curly hair, thin lips, a raspy voice, and a nose that arched just enough to give him a dignified profile.
He was grateful, he said, for three things, "First, I am thankful that we don't have to go to Englewood, New Jersey, for Thanksgiving dinner; second, I am thankful that I don't live in Russia." I didn't take note of the third cause of his rejoicing. It didn't matter. I knew right away that I wanted to be his friend.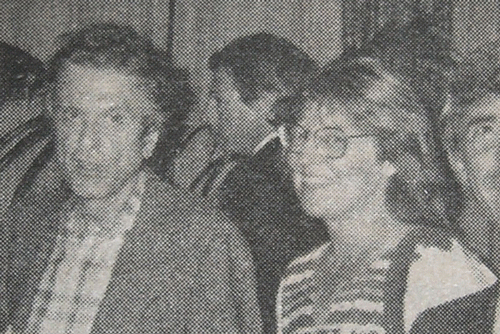 Bob DeNiro Sr. and Minerva Durham Soho
He grew up in Syracuse, NY. His parents met at a party in an Irish neighborhood in Syracuse. Henry De Niro crashed the party claiming to be a visitor from Cuba. He danced with Helen O'Reilly and walked her home. At her parents' front door he kissed her. Engendered by that kiss were thousands of paintings and drawings, scores of movies, and, eventually, billions of dollars worth of prime real estate deals in Manhattan. After kissing Helen O'Reilly, Henry De Niro confessed that he was Italian, not Cuban, and that he lived across town, not in Cuba. Helen was pleased by his confession and thought that he was a gentleman.
They married, and their first-born was Bob, baptized Robert Henry De Niro. He was a beautiful child with blond curls, so beautiful that his father feared as he grew older that "pederasts" would seek him out and corrupt him.
Henry beat his son. Bob never forgave his father, nor did he easily forgive his mother for allowing the beatings. As a teenager he found a second home at the Syracuse Art Museum where his talent was recognized and he was given a place to draw and paint. He ran away in his mid-teens to Goose Rock's Beach, ME, where there was a teacher named Eliot O'Hara the artist-author of two self-help books, "Making Watercolor Behave" (1932) and "Making the Brush Behave" (1935.)
He arrived at the beach in the dark, late. O'Hara's son suggested that he could sleep on the deck of O'Hara's boat until morning. Finding Bob asleep early in the morning O'Hara was furious and ordered him to leave. One wonders about the scene, though, Was the older artist reacting on some level to Bob's youth and beauty, or was he just angry that there was a stranger asleep on his boat?
Virginia Admiral, a Midwesterner whose parents relocated to the far west when she was young, met Bob at Hans Hofmann's school in Provincetown in the early '40's. Her teachers in California had studied with Hofmann earlier and they encouraged her to go east to study with him.
Soon Bob and Virginia were lovers, but not exclusive lovers. Anais Nin has written about an argument that they had over Bob's being lovers with Virginia's friend, Robert Duncan, the poet. The passage, I believe, is in Nin's diary covering 1943.
When Virginia's younger sister gave birth to a son in California, she traveled to see the baby. Back in New York, she told Bob that they must marry so that she could have a child too.
"We can't marry," Bob told her. "I'm homosexual."
"No you're not," she said.
Virginia was 28 and Bob was 21 when their son Bobby was born.
Mariann Nowack introduced me to Virginia Admiral in October, 1977, when I arrived in New York. She described Virginia as being an interesting woman, an artist, writer and political activist, whose son was becoming a famous actor.
Taxi Driver had come out the year before. Bobby's fame was just beginning to become a nuisance. Eventually everyone around Virginia learned the drill: Never tell anyone that she was the mother of the famous actor. Never bring anyone to the loft who wanted to meet the mother of the actor. Deny that she was the mother of Robert De Niro if anyone were to ask.
Virginia had just retired from running a small typing and printing company. She returned to painting and drawing but found it difficult to get started again and to spend long periods of time making art. She felt that she needed someone disciplined like me to keep her drawing every day. There was plenty of space in her loft and she had a large circle of friends, many of whom had worked for her as typists when she was running her business.
I began to spend every day in Virginia's loft with her, her friend Ruth Fortel,* and Mariann. We drew each other, nude or clothed, or drew the many plants in the loft, or we set up still lifes. Occasionally we hired nude models. Nights I either stayed over with Virginia downtown or I slept at my sister's on the Upper West Side.
Virginia, loyal to the teachings of Hans Hofmann, did not approve of way in which I drew. She considered my approach to be too realistic, academic and illustrative. "Can't you get her to stop drawing like that?" she once asked Mariann. Bob, a frequent visitor to Virginia's loft, defended me, saying that it didn't matter how I drew, as long as I continued to work. He accused Mariann and Virginia of being jealous of me because I found it easy to work hard. Of course, I loved him for defending me.
A year later I got a job proofreading and found a little tenement apartment on the corner of Kenmare and Mulberry, around the corner from Virginia's loft. My teenage daughter Teva came to New York to live with me. One late afternoon Dick Brewer, an old friend of both Virginia's and Bob's, made plans to see my drawings. He telephoned me on the way over to complain that Bob was insisting on coming too, and that he was sorry but he couldn't shake him. But I was delighted that Bob wanted to see my work.
Teva and I lived in three rooms, a walk-in kitchen, a small middle room and an even smaller bedroom which was nearly all bed. In the middle room I pulled out recently drawn pastels for Dick and Bob to see, some life-sized nude portraits of friends, and table-top still lifes of fruit and memorabilia.
Without being asked to comment on the work, Bob began a fierce critique. "The whole is not greater than the sum of the parts," or, '" the whole IS greater . . ." sounded at first like a cliché, but I have used Bob's signature criticism for years since I first heard him say it.
At one point I walked into the kitchen and Teva followed me. "Are you crying?" she asked me.
"Crying? Why would I be crying?" I responded.
"Aren't your feelings hurt?" she asked. "He is saying mean things about your drawings."
"No," I said, "He is giving me just what I need. He has a good eye. Now I know which drawings can be shown, and which ones should be thrown out."
From that point on I took Bob to be my mentor, but, to tell the truth, he never took me to be his mentee. But we were good friends, like family, going to openings and parties and performances together. Bob and Minerva at an Art Opening, early 1980's
For years I cut his hair because he had the sort of hair that I could cut and shape easily although I never studied hairdressing. The curls were forgiving and he wanted to save money. Looking back on the haircuts now, I view the experience as classic primate grooming behavior, asexual touching that reinforces bonds of affection.
As the sun went down outside, the middle room darkened. "Turn the lights on," Bob said. I told him the truth, which was that I hadn't replaced the overhead light bulb because I needed to spend all of our money on food. So Bob insisted that we go out then and there to buy some light bulbs at the nearest bodega.
The four of us walked two blocks to Prince and Mott and stood giggling at the checkout counter of the bodega that used to be on the corner, and we chose a package of bulbs. Bob paid. It was La Vie Boheme all over again.
---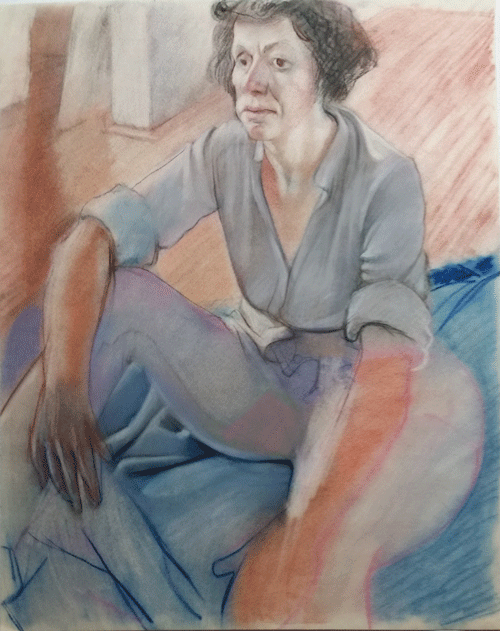 *UNFINISHED, Ruth Fortel Posing for Virginia, Mariann, and Minerva in Virginia's Loft, Minerva Durham, c. 1977, Pastel on Paper, 24" x 19"
This Art was shown Spring Studio, 64 Spring St., New York, NY 10012 during September, 2014.
The Studio moved in Summer 2019 and is now located at
91 Canal Street, NYC
---
Restore Arts to the Park
---