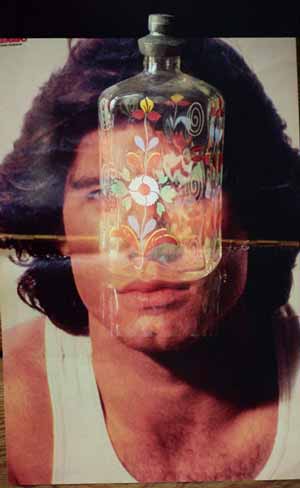 Untitled (John Travolta), 2003.
Photo,
32" x 12"
In the 1978 movie Grease, Olivia Newton-John sings the final lines of "Hopelessly Devoted to You" to an image of John Travolta that seems to float on the water below her. When the camera pulls back it is revealed that the water is in a small, circular child's pool at her feet. It is a scene that includes, however absurdly, all three of Amelie von Wulffen's categories: the pair (Paar), of Newton-John and Travolta; furniture (Möbel) in the form of the little pool; and the landscape (Landschaft) of the wider view that encompasses the other two.
Travolta appears twice photographically in von Wulffen's exhibition, also ephemerally, and perhaps absurdly, merged with a rock face and tree in one work, behind a bottle in the other. The movie is full of interplay between fantasy and vulgar reality and ends in a grand conflation of both, with a gaudy 1950s car carrying Travolta and Newton-John into the skies. Von Wulffen's conflations involve a different kind of romantic grandness, in which the images go in the other direction, receding into the past, emerging from memory. And how grand anyway that Travolta is here, that he is part of the landscape, or the still life, and therefore part of a traditional place in the European imaginative tradition.