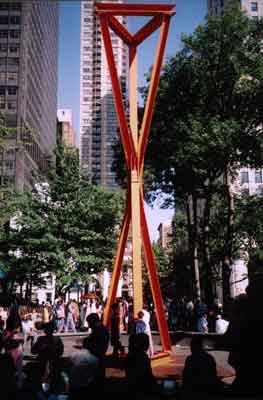 Double Tetrahedron, 2004.
Painted steel,
36'8" x 8'10.5" x 8'10.5"
---
Madison Square Park, like all urban parks (and all other parks, for that matter), represents a closed system, a human arrangement of the landscape. In the city, everything is accounted for: places for people to work and live, walk and ride, eat and make telephone calls, relax and enjoy nature. Nothing is not accounted for. The system does deteriorate and break down, but even abandoned buildings and lots, and unapproved behavior, are on a list somewhere, and then the trick is getting around the list. In this particular park, one's course is generally predetermined, entering and exiting at the corners and the sides, proceeding between chain fences along paved paths around expanses of grass and under great trees, closed in by a peripheral array of buildings--including the Flatiron, Metropolitan Life, and Mutual Life--as though seen from a boat on a river, and confronted by statues of several 19th-century men--Lincoln's Secretary of State William Henry Seward, Union Civil War Admiral David Glasgow Farrugut, President Chester Alan Arthur, and New York State Republican boss Roscoe Conkling.--who are supposed to have affected our lives in some important fashion. In the scheme of things, everything is taken for granted, and nearly forgotten.
The three monumental sculptures by Mark di Suvero make it impossible to forget, at least for the time they are there (and maybe afterwards, out of sight). Two of them are large statements of red painted steel, and therefore quite obviously different from everything else. The other is naked steel, rusted, and perhaps more familiar because its colors and materials are related to those of the surrounding buildings (and to the trunks of trees). Still, this last piece, called Beyond, is so powerfully arranged, like a great horse standing on five legs with its body twisting and turning just from being in contact with the earth, that it almost seems to tear itself away from its context. But, in fact, what all the sculptures do is bring their context to life, or make us see that their context is alive.