South Street Seaport Museum - Free Admission
Enjoy various exhibts and activities free of charge. Located in an 11-block area along the East River at 12 Fulton St, NYC 10038. Every 3rd Friday of the month beginning at 6pm, you can explore this fascinating collection of galleries, historic ships, 19th century buildings, intriguing seafaring memorablilia. Phone 212 748 8786.
New York Botanical Garden - Free Admission
On Saturdays you can take a free stroll around the exquisite 250 acre grounds of this world class landscape featuring an infiinite display of curated gardens as well as a huge stretch of native forest. All day on Wednesday and from 10am to 12 noon. Phone 718 817 8700.
The Antiques Garage and Green Flea Market - Free Admission
Located at 12 West 25th Street beween 6th and 7th Aves, NYC 10001. Year-round Sat and Sun from 9-5pm. Put on your walking shoes and get ready to shop more than 100 vendors that fill the bi-level garage of antiques. No crafts or food fillers, these crafts are surely vintage. You never know what you are going to find.
Free concerts and movies. Located at 30 Lafayette Ave, Brooklyn NY 11217. Enjoy free performances by jazz, world beat and experimental artists Fridays and Saturday evenings at the BAMcafe or watch movie classics on the big screen while enjoying complimentary popcorn and soda as part of BAMs monthly senior series. Phone 718 636 4100.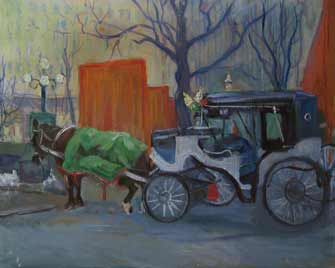 Horse Carriage in Central Park © Anna Feld
Oil on Canvas
---
-- THE HANSOM CARRIAGE --

A Great New York City Tradition.