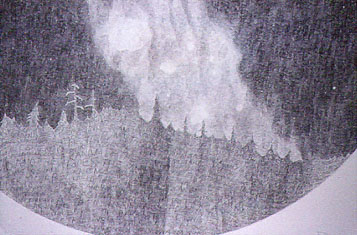 © Russell Crotty
Summer Milky Way Sinking, 2000.
Ink and Pencil on Paper
48 x 48 inches
So there is the sky in Crotty's work, rising from the mildly jagged line of silhouettes along the horizon. That is sort of what Ed Ruscha sees too, coming from Oklahoma to the Coast -- the paper-thin silhouette of civilization beneath the sky, the sky itself as a canvas. Everything is in the sky, and Crotty records it all from his outpost in the Malibu hills. Staying up through the night, he records in notations the movements of stars and planets, the Milky Way, the Hale Bopp comet. He transfers his findings to single drawings, to books of drawings, to drawings covering large lucite globes.
In these globes, the sky itself becomes another earth, an alternative earth. Not exactly astrology, but the total field of consciousness, and unconsciousness (in a couple of drawings, Crotty's poetic observations about the heavens have a kind of chthonian, subterranean existence, underlying the landscape). Abstraction, as an aesthetic and philosophical necessity, is literally the sky and all that is in it.