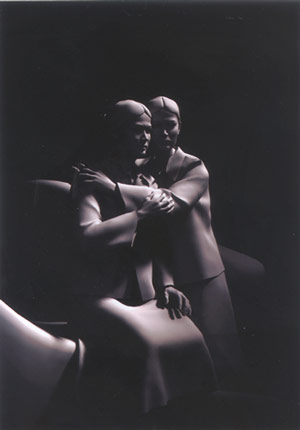 Untitled, 2004.
Description: two figures. Constructed Photograph,
digital chromogenic print,
66 3/4" x 48" (framed). Ed. of 5.
Two women in one photograph, and one in another, look distressed, or in wonder. The first two hold each other anxiously, one seated with her left hand raised slightly above her lap, the other standing. The third woman, also seated, leans forward, expectantly, toward the left. They are all looking at something, not us, but something in the darkness that surrounds them. Light strikes them from the direction of what they appear to see.
But, of course, they do not see (they are specifically without pupils) and they are not women, nor can they therefore be anxious. Neither are they sculptures of women that have been photographed, though their modeled surfaces and heightened awareness suggest a connection with the classical tradition in sculpture. So why do we (or rather, I) identify with them so immediately, emotionally and intellectually? After all, though they were constructed and contextualized on a computer, a means that has only recently been available, they are no more fictitious than any other figures in works of art. The Greeks and Romans devised ideal proportions for human and other bodies, and Leonardo da Vinci was even more calculating. However affected we are by these and, for instance, the more emotionally wrought figures of Bernini in the 17th century, we can also embalm them, and dismiss them, as the products of defunct mythologies in other times.