New York Arts - Cultural Workshop
The Cloisters
Concerts, Gallery Talks and Workshops at The Cloisters
Saturdays and Sundays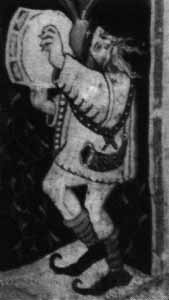 Drummer
At the Cloisters
Fort Tryon Park NYC 10040
212-650-2290 -- www.metmuseum.org
Scroll Down for More Info:
---
THE CLOISTERS

The Cloisters Audio Guide presents more than 70 works of art and architecture as well as discussions of the Museum itself, medieval art and culture, nd the gardens.

The Timeline of Art History is a chronological, geographical, and thematic exploration of the history of art from around the world, as illustrated especially by the Metropolitan Museum's collection. An invaluable reference tool, the Timeline was launched in 2000. It now extends from prehistory to the present day.

The Cloisters Library and Archives, containing materials specifically for the study of medieval art and related topics, is open to qualified researchers by appointment only.

Call 212 396-5319 or email cloisters.library@metmuseum.org for an appointment. Hours: Tues-Fri, 10:00am - 4:30pm
---
The Cloisters is a branch of the Metropolitan Museum of Art, in New York city, devoted to the art of medieval Europe.The Cloister Arcades are from the Bonnefont-en Comminges Cloister in Southern France. They date back to the late 13th and early 14th centuries.
---
Gallery Workshops for Families
Children ages 4 to 12 and their families are invited to join us for these hour-long programs, which are free with Museum admission. Meet in the Main Hall at 1pm unless other wise indicated. No reservations are required.
Sundays
Telephone The Cloisters - 212-650-2290
---
Gallery Talks at the Cloisters - Sundays
Gallery Talks and programs are presented at noon and 2pm unless otherwise specified and are free with Museum admission. No advance reservations are necessary. Gallery space is limited; preorganized groups of ten cannot be accommodated.

Photo Above:
From the Benedictine Monastery of St.-Michel-de-Cuxa,
near Perpignan, France: ca. 1130-40.
The Metropolitan Museum of Art,
The Cloisters Collection, 1925.
CONCERTS AT THE CLOISTER
Hear medieval music amid masterpieces of the Middle Ages at The Cloisters. The marvelous setting, superb acoustics, and world-class performers combine to provide unforgettable afternoons of early music.
---
Subscription Concert Series
The Cloisters - www.metmuseum.org
Fort Tryon Park -- New York NY 10040 -- 212-650-2290
---
Click on E-Mail for Inquiry
All artwork is copyright of the respective owner or artist. All other material © Copyright 2015 New York Art World ®. All Rights Reserved.
Cultural Workshop - The Cloisters - Back To Top
---