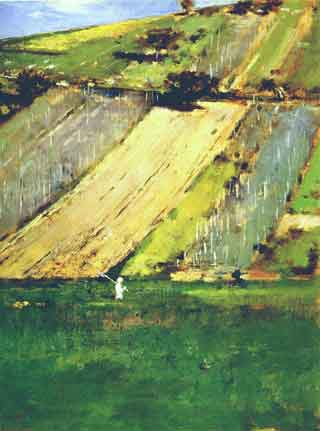 Valley of the Seine, Giverny, 1887.
Oil on canvas, 16 1/4" x 13".
Los Angeles County Museum of Art,
Gift of the 2001 Collectors Committee, M.2001.72.
Theodore Robinson visited France for the first time in 1875 at the age of 23 and stayed there through 1879, studying in Paris with Karl Lehmann, Emile-Auguste Carolus-Duran, Jean-Léon Gérome, Alexandre Cabanel, and probably Benjamin Constant; entering his work in the Paris Salon; and traveling in France and Italy. From 1884 through 1892, he spent part of his year there, after 1886 in the small village of Giverny, about 50 miles northwest of Paris. He was otherwise mostly in New York City, where he died of an acute asthma attack in 1896, at the age of 43.

Being in France all that time, Robinson was quite aware of the new developments in French painting, of the Barbizon School and the Impressionists, though his teachers were all academicians. But it was not until the years in Giverny, in the presence of his friend and mentor Claude Monet, that he was able to break free from the more stolid and picturesque everyday scenes of his earlier paintings in the United States. The specifics of place, light, and color became far more important to him. He let the simplicity of the landscape and its forms at Giverny engage him, finding that the hills and fields, buildings and bridges, trees, river and roads, people and animals, were worthy of study from every angle, and from the same angle over and over again in changing conditions of light and weather, often with the aid of photographs he took. The new certainty and depth of his vision is powerfully expressed in Valley of the Seine (1887), in which a tiny figure in white anchors a configuration of one horizontal and several diagonals that contain and describe several hillside swaths of yellow and gray, and a triangle of blue sky. The colors are muted, layered, and almost trenchantly earthen, as they would remain in all Robinson's subsequent work.