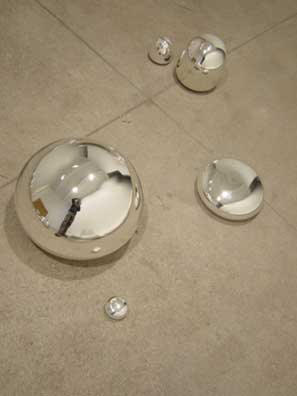 Here and Now, 2001.
Mirrored, blown glass in ten parts,
diameters 3" to 19".
The shadows that comprise this work might have been blown by the wind, from another time to this one. Here and Now is a floor installation of ten perfect mirrored-glass globular shapes blown by the artist, also like drops of water, but expanded and now at various states of rest. They are of this time. The globules are actually different shapes, higher or flatter, and range in diameter from three to nineteen inches. They are perhaps eternal volumes, determined by physical laws, but they are always in the present, reflecting and distorting, naturally, what is there. Of course, what is there is seen differently in each flattened or heightened sphere (including the reflections in other spheres), and what cannot be seen on the other side of each volume is nonetheless there, though in proving that one loses sight of earlier moments, though not, reassuringly, of oneself. Each is an expanding, or shrinking, universe in which everything is contained, an inversion of the scattered energy pattern of Shadow of Ecstasy.