---
A Brief History of Central Park
Central Park is the first major public park built in America.
The northern end of Central Park was the site of a series of fortifications during the American Revolution and the War of 1812.
Tavern on the Green was originally a sheepfold housing a shepherd and the flock that grazed Sheep Meadow until 1934.
Belvedere Castle was completed in 1872 as a viewing pavillion overlooking the lower Croton Reservoir. In 1937, the reservoir was filled in to become the Great Lawn.
The second Carousel, erected in 1873, was turned by "horse power". Twice destroyed by fire, it was replaced by a 1908 carved folk art work from Coney Island.
Central Park was declared a National Historic Landmark in 1965 and a New York City Landmark in 1974.
Central Park Trivia
The Park's 843 acres of land include:
land, water and woodlands.
There are 26,000 trees, 270 species of migratory birds, and more than 25 million human visitors to the Park each year.
The rock outcrops in the Park, a metamorphic rock called Manhattan schist, are approximately 450 million years old.
There are 8,968 benches, 36 bridges, and arches, and 21 playgrounds in the Park.
Painting Uptown in Central Park
Taking our canvas outside to Central Park, we will paint the landscape of the park as it intermingles with the city.
All mediums are encouraged: drawing with pencil or crayons; and painting in watercolor, gouache, acrylic, or oils.
Our range is from the traditional to the abstract. We wish to explore light in the atmospheric outdoor nature, which will lend itself to capture the splendid variations in ligbt and color.
We wish to find our own sense of creativity to express a personal style while examining solid technical information. We will study elements of composition, and formal perspective, always with an emphasis on color as it relates to the colors found in nature.
We also will discuss artists of landscape historically: the Naturalists, Impressionists and Expressionists painters. This is a class that is structured for individual attention.
Meet New York city artists painting in the park!
The Geometry of Central Park
Central Park is an enormous city park comprised of 843 acres located in New York city. It was created in the shape of a long rectangle centered in Manhattan above the hustle and bustle of mid-town. It is the most visited urban park in the US with about 25 million visitors annually.
Central Park has borders on each side: on the north by West 110th Street, on the west by Central Park West, on the south by West 59th Street, and on the east by Fifth Avenue. Along the park's borders, these streets are usually referred to as Central Park North, Central Park West, and Central Park South, respectively; except for Fifth Avenue which is called just as it is.
Central Park was designed by Frederick Law Olmsted and Calvert Vaux, who later created Brooklyn's Prospect Park. While much of the park looks natural, it is in fact almost entirely landscaped and contains several artificial lakes, extensive walking tracks, two ice-skating rinks, a wildlife sanctuary, and grassy areas used for various sporting pursuits, as well as playgrounds for children. The park is a popular oasis for migrating birds, and thus is popular with bird watchers. The 6-mile road circling the park is popular with joggers, bicyclists and inline skaters, especially on weekends and in the evenings till dusk
Plein Aire Palette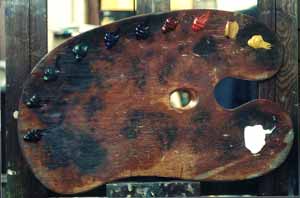 © David Pena's Palette
---
Andrew Wyeth:

Although he was not often thought of as a plein air painter, Andrew Wyeth (1917-2009) usually began his creative process by making drawings, watercolors, and dry-brush paintings on location.

"I started out painting at an easel but soon gave that up," he wrote. "It was too formal, too pat. I like to be in the scene I'm painting -- sitting on a snow... "