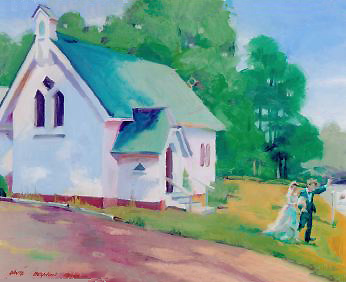 Spontaneous Live Event -- Wedding Day Painting
---
CLICK on the "Wedding Day" Painting above to see VIDEO.
ONE MINUTE VIDEO PAINTING:
Check out Errissa and David's wedding, which was painted on location, at the Seawane Club in Hewlett Harbor NY.
---
The Wedding Day painting, shown above, was painted on location, on site in New Hampshire, by David Pena, on the occasion of Warren and Eleanor's wedding day. The long shadows are indicative of the early morning sunrise, the dawning of their new life together.
Pena - Live Event Painter and Artist
David Pena's Paintings are For Sale. Email: Sales
---
Live event painting to capture the attention of your guests and the memorable highlights of your luxury wedding on canvas as they unfold.
As a Live Event Painter and Artist based in New York city, Pena creates beautiful original paintings to immortalize your wedding on canvas.
Reflecting an artistic and timeless treasure, Pena colorfully captures the festive moments of your day -- by seizing the day -- with his unmistakable artistic style and talent. Live event paintings will add that classy touch of sophistication to your own special event whether it be a wedding ceremony, reception or honeymoon and talked about for many generations to come.
A work of art destined to become a family heirloom or delightful one-of-a-kind gift! Uniquely distinct entertainment that will truly leave your wedding guests amazed!
Pena is most gracious to travel outside of New York as a live event artist for your luxury wedding event, in creating an exquisite live event painting you'll cherish forever.