Johanna Lisi Artist
Resonance Series
---
New York Art World ® - NY Artists - Next Artist - Back - Next Lisi
---
Memories and experiences reverberate with the art of our time.

© Joanna Lisi

First Street Oval

Oil on Canvas Painting

Summer Solstice

-- from Osip Mandelstam

Orioles live in th elms, and in classical verse

the length of the vowels alone determines the measure.

Once and once only a year nature knows quantity

stretched to the limit, as in Homer's meter.

O this is a day that yawns like a caesura:

serene from the start, almost painfully slowed.

Oxen browse in the field, and a golden languor

keeps me drawing a rich, whole note from my reed.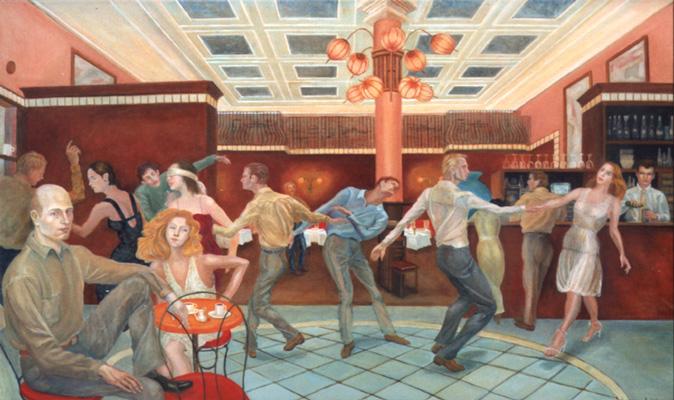 © Johanna Lisi 2000
Dance Cafe
48" x 78"
Oil on Canvas Painting

© Johanna Lisi 2000

Astor Place at the Public

Oil on Canvas Painting

© Johanna Lisi 2001

Great Jones Diner

Oil on Canvas Painting
---
J. Lisi 2018 All Rights Reserved

Continue on NEXT Page for more of J. Lisi's Art Work --

Please click on the first letter of the artist's last name for more info

Click on ORDER FORM for Inquiries - PAYMENT OPTIONS for Art Purchase.

NYAW.com All artwork is copyright of the respective owner or artist. All other material © 2018 New York Art World®. All Rights Reserved.

Art Themes - Artists - Next Artist - Back - Next Lisi Art

New York Art World.com - Back To Top
---