Holiday Hours 2020

During the holidays we are open every day
New Year's Eve, Tuesday December 31, we are open for morning and afternoon sessions. 9:30 am and 1:00 pm.
Tuesday's Schedule:
9:30am - Sketch with Minerva
1pm - Sketch
7pm - Open House New Years Eve Celebration
We prepare for the Celebration from 4:30 on, with artists and friends dropping by to help set up the room and to bring good wishes.
The open-house celebration officially starts at 7:00 pm with OPEN MIKE. Anyone can sing or dance or make comments from the models' platform throughout the evening. We bring in the new year at midnight and close at 1:00 am. Refreshments served.
We are closed New Year's Day, January 1. All sessions meet on January 2 and every day thereafter until Easter Sunday.


2020
TUESDAY Dec. 31: 9:30 am: Sketch with Minerva; 1:00 Sketch; 7:00 pm: Open House New Year's Eve celebration
WEDNESDAY Jan. 1, 2020: CLOSED
THURSDAY Jan.2: OPEN for all sessions every day until Easter Sunday.
---
THE STUDIO HAS MOVED
as of Summer 2019

Our New Location:
Spring Studio / Minerva's Drawing Studio
91 Canal Street near the corner of Eldridge Street, NYC.
Phone: 212-226-7240 or 917-375-6086.
Gallery Hours: 4-6pm weekdays & by Appointment
Call Minerva for appointment 917-375-6086
---

The Minerva Foundation for Figure Drawing Inc.,

91 Canal Street, New York, United States

Minerva Durham, Director, 917-375-6086
springstudio@earthlink.net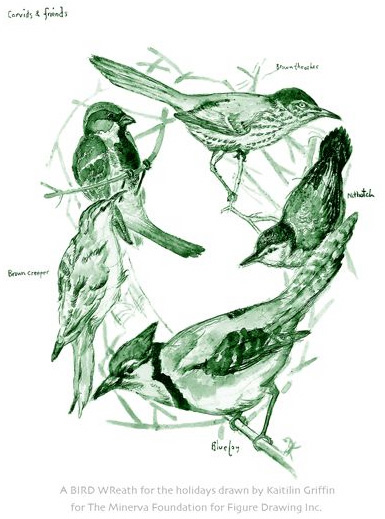 Bird Wreath by Kaitilin Griffin
for The Minerva Foundation for Figure Drawing,
91 Canal St, 4th floor.
---

THREE REASONS TO SUPPORT
The Minerva Foundation for Figure Drawing
1.) STOP and GO; Kimchikim drew Liliya, 7 months pregnant, doing 30-second STOP AND GO's in Minerva's class
2.) COLLAGE cut-out workshops; Chuck Connelly taught COLLAGE CUT OUT WORKSHOP in Nicolaides class; Photo: Ruth Tripkou
3.) PORTRAIT Drawing; Kay Hines drew these 11" x 8 and 1/2" portraits in Lyle Gerts' PORTRAIT class;

Photos: Tim Paige
---
SEE below to donate through the New York Foundation for the Arts.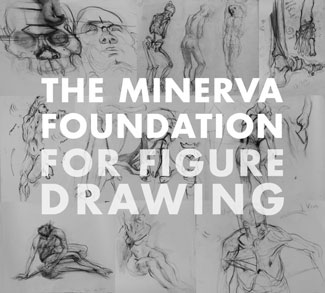 Reminder: Support the Studio!
i
MAIL A CHECK
made out to
"New York Foundation for the Arts (NYFA)"

with "The Minerva Foundation for Figure Drawing" in the memo line

to NYFA at 20 JAY STREET, SUITE 740
BROOKLYN, NY 11201

For donations over $2,500,
you must include a Contribution Letter with your check to NYFA!