This Sunday, Continuing with twelve Sunday evening fundraising SOIREES
Hi Everyone,
PLEASE plan to attend one of the twelve soirees being planned to raise money to meet the studio's yearly deficit. Also, please post the announcement below about the SOIREES on social media.
https://www.gofundme.com/minervasdrawingstudio
Thanks.
Minerva
It is fundraising time, so please check out my revised GoFundMe
page.or attend one of the soirees which happen every Sunday evening.
https://www.gofundme.com/minervasdrawingstudio
Below is the new memoir piece that I will read on this Sunday.
In case you can't attend any of the Sunday soirees..
SUNDAY, October 28

Nylaia Silvia Prado dos Anjos recites a poem and a folk tale
accompanied by Andrew Bolotowsky, flute, and David Galt a/k/a Didgery Dave.

Minerva Durham reads a newly written excerpt from her memoir: Part
Three of My Virgin Heart in St. Louis: John Harford, 1957
Elizabeth Hellman reads excerpts from An Uncomfortable Inn (1960) by
poet and anarchist Dachine Rainer
6:00 pm
Doors open at 5:30 pm
Wine and Refreshments served
$20 minimum donation
SPRING STUDIO a/k/a
Minerva's Drawing Studio
293 Broome St.
New York, NY 10002
Minerva Durham, Director
917-375-6086
https://www.gofundme.com/minervasdrawingstudio

in advance of the annual autumn fundraising drive that makes up the yearly $40K deficit. (SEE below.)
Or, donate $50 in person and receive one of the charcoal and pastel drawings I've done on newsprint during my anatomical teaching sessions. Take it right off the wall. I've got lots of fine ones.
Minerva Durham reads a newly written excerpt from her memoir: Part
Three of My Virgin Heart in St. Louis: John Harford, 1957

Elizabeth Hellman reads excerpts from An Uncomfortable Inn (1960) by
poet and anarchist Dachine Rainer
6:00 pm
Doors open at 5:30 pm
Wine and Refreshments served
$20 minimum donation

SPRING STUDIO a/k/a
Minerva's Drawing Studio
293 Broome St.
New York, NY 10002
Minerva Durham, Director
917-375-6086This is my new memoir piece:

Preface
Browsing YouTube a few years ago I found by chance a stunning and
surprising performance given by John Hartford before he died of
Non-Hodgkin's Lymphoma. Even in a weakened state Hartford was a poet
in the deepest and oldest sense of the word, employing a traditional
genre, fusing language, rhythm and rhyme into a construction that
allowed for many layers of interpretation. His beat was insistent,
confident and virile. Anglo-Saxon versification was made modern.
I think that it was his beat that most surprised me.
I hadn't talked with Hartford in person since college days at
Washington University in St. Louis in the late 1950's. When I googled
him and realized that he had managed to live his life true to his
gift, I began to admire him. I began to remember him.
Over the years I was always happy to hear of Hartford's popular
success. But I was busy with children and art and survival, so I
seldom thought about him and hadn't even bothered to listen to the
words of his big hit, Gentle On My Mind, beyond the first verse.
I watched him a bit on the Smothers Brothers' TV show where he once
made himself into a percussive orchestra by tapping his body and
cheeks and clicking his tongue. While that performance moved away from
traditional music towards acrobatics and vaudeville, it demonstrated
how basic the beat was to all of Hartford's music.
I went out of my way to attend a concert he gave in St. Louis in the
70's when he was beginning to play the fiddle more seriously than the
banjo. He played his violin amazingly then, and mastery of the
instrument, it seems, was a major goal in his life. He spent his last
years gathering fiddle tunes.
In this part of my memoir I remember John Hartford in 1957, when he
was still named John Harford, before Chet Atkins got him to put a "T
" into the middle of his name, and just before the American sexual
revolution happened.Part Three of My Virgin Heart in St Louis:
John Harford, or, The Question, 1957
The first two parts of "My Virgin Heart in St. Louis" can be found on
my website: minervasoho.com
It wasn't really a date. Did I want to hear some Bluegrass tapes he
had at home, a few blocks away from the art school where we were
students? I was a sophomore and he was a junior, a new student having
just transferred from a fancy East Coast school. His car was in the
school parking lot and he promised to drive me home later. In 1957
everyone in St. Louis who had a car drove everywhere, even when they
were only going around the corner.
At his parents' house we sat next to each other on a large couch in
the living room and listened to hard-picked mandolins and banjos, and
hard-driven song verses. I can still feel the size of that room and
visualize our relative positions on the couch and recall his gestures
as he stood up every now and then walking across the room to deal with
the sound system.
Was it just his slenderness or was there something in his nature that
triggered a heightened sense of space in me? The first time I saw him
he was sitting in a large window bay in one of the drawing classrooms
with a banjo on his knee. Barbara, my best friend, had just met him
and wanted me to get to know the guy who played banjo. Folk music was
the rage among many college students then.
His lean body was all the way over to one side of the window bay,
leaving a significant emptiness next to him. The space was not
uninviting, yet it seemed he was surrounded by a vast loneliness. I
considered, and then rejected, the idea of sitting next to him. I
didn't want to intrude.
During lunch breaks he often picked his banjo, always sitting in one
of the window bays and filling the room with music. It was practice
for him, but entertainment for almost everyone else, because he was a
superb musician.
His father, a doctor, loved country music, he said, and the family
drove to the Ozarks many weekends. He grew up crawling around at
square dances under the feet of musicians.
Much later, when he became famous, he no longer spoke like an educated
city boy, but with a perfect country accent, shot through with
humility. He wore a fine country hat and casual clothes made elegant
by a dark vest. His high cheekbones and the rugged bone structure of
his face gave his small eyes and thin upper lip an expressive
advantage, but for the most part his music was delivered with
restraint, suggesting the deadpan attitude of a tough mountain man.
He didn't credit his father anymore. Fair enough. He had reinvented
his urban self and had become the real thing, respected and loved by
every country musician that he respected and loved, and accepted by
all of them as one of them.
That day, so many years ago, he drove me home as he had promised that
he would. We sat in the front seats of his car making small talk,
heading west on Big Bend Boulevard. Just as he turned the car to the
right to enter Northmoor Drive where I lived, he asked:
"Do you believe in free love, Minerva?"
I froze, unable answer him.
The question hung in the air in the nearly palpable space between us
while I tried to find an answer. What did he mean by "free love?" I
asked myself. Was he referring to the anarchists' idea that sexual
relations freely entered into should not be regulated by law, or to
the idea that it is OK to have indiscriminate and irresponsible sexual
relations with anyone at all no matter what? Was free love a euphemism
for "promiscuous," I asked myself.
Or, I wondered, was he asking me if I would have sex with him?
Having grown up in an all-female household, I feared males. Their toes
were too big; their jokes weren't funny; I didn't like it when they
roughhoused; they were way too strong, an unequal match, impossible to
play tennis with; and even if I had a crush on one of them and
secretly desired him, as, perhaps, I secretly desired John, I didn't
consciously want to touch any of them.
He must have felt my confusion and didn't push me to give a clear answer.
What I didn't know at the time, but found out many, many years later,
was that John Harford and David Durham, also an art student, had
talked at lunch earlier that very day about which girls on campus
might be sexually available. My name had come up. By the rules of fair
play both men were free to attempt a conquest. John had been the first
to act.
John having been discouraged, David pursued me with enough persistence
that one day, as we walked slowly hand in hand lost in conversation
along the road that led to the back entrance of school, we didn't
notice that there was a car behind us that had slowed down and that
the woman behind the wheel was waiting patiently for us to move at our
own pace.
I remember John coming up to me in the hall at school. He established
a distance between our bodies that was friendly but formal. He clearly
had something on his mind. He said, "Minerva, my mother saw you and
David the other day walking hand in hand by the back entrance. You had
no idea that she was in a car right behind you. She said to me, 'Those
two must be in love. ' "
So the patient driver was John Harford's mother. And, oh, she thought
like a poet, and she shared her poetic thoughts with her son, who also
thought like a poet.
Clearly, John was admitting defeat and was letting me know that he was
putting to rest forever any claim to establish intimacy with me.
But I like to think that he held on to his mother's poetic perception
and that he used it a few years later when he wrote one of the lines
for his famous song "Gentle On My Mind."
[It's not] . . . something that somebody said because they thought we
fit together walkin . . .
That keeps you in the back roads, by the rivers of my mem'ry, that
keeps you ever gentle on my mind.
Indeed, now, so many years later, you guessed it, it is HE who is in
the rivers of MY memory, ever gentle on my mind.
On YouTube
Listen to John Hartford sing Gentle On My Mind with fiddle
https://www.youtube.com/watch?v=gn35akH09Z8
An early 1977 bluegrass version with banjo and foot tapping:
https://www.youtube.com/watch?v=zQPpTXBGi7A

NEW GALLERY HOURS:
Spring Studio, a/k/a Minerva's Drawing Studio, 293 Broome Street, will be open to well-wishers and gallery goers weekdays between the afternoon and evening drawing sessions, from 4 to 6 pm, Monday through Friday.
---


The ANNUAL FUNDraising drive this year begins soon
As noted above, I am launching the annual fundraising drive soon. I will announce dates for Sunday evening soirees at the strudio , admission by $20 donation. Please get in touch with me if you would like to perform or read during one of the soirees.

---

View Kuan's most recent dance:
" Reception"
https://youtu.be/8PWnxn2YnaA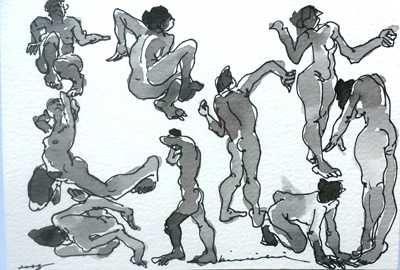 Kimchikim drew Kuan
Love,
Minerva