CALENDAR OF HOLIDAY EVENTS
at the Studio,
293 Broome St, NY 10002:
THE NEW YEAR'S EVE PARTY

Minerva's Drawing Studio a/k/a Spring Studio

The Annual OPEN MIKE New Year's Eve PARTY,
8 pm to 1 am
I will serve wine and snacks. Bring something to eat or drink.
And something to dance, sing, read, or recite.
(Pre-party drop-by visitors are welcome between 6 pm and 8 pm, but please let me know approximately when you are dropping by.)
My cell is 917-375-6086
OPEN MIKE, New Year's Eve, 2014
Leon Axel and Barbara Kerstetter
performed "The Owl and the Pussycat."
---

Remembering Aviva:
Draw free Thursday, December 28. 6 pm to 9 pm in memory of Aviva Stone who died December 28, 2007, Gregorian calendar (the 19th of Tevet, 5768, Hebrew calendar.)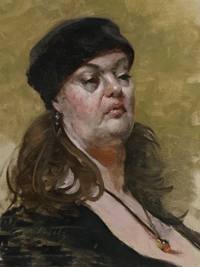 Aviva
After the Drawing Session we will recite the yahrzeit prayer for her, then share memories and refreshments.
OPEN for all sessions New Year's Eve, Sunday, December 31, 2017

New Year's Eve PARTY, 8 pm to 1 am
CLOSED New Year's Day, Monday, January 1, 2018
---
Model Tryouts, Jan 7, 2018, 5 pm to 8 pm.
Artists pay $20 or a punch on their cards.
---
Minervas' Drawing Studio / Spring Studio
293 Broome St, NYC
(Between Eldridge and Forsythe Streets)
---
THANKS TO EVERYONE FOR DONATIONS
to my GoFundMe page.
With your help and the help of donors who generously gave to me directly, I have almost reached my goal of $40K, the yearly deficit.
Today I am only a few thousand dollars short.
I will have to raise prices in the new year to lessen the deficit next year. I continue to offer my drawings and vintage paintings for sale to keep the studio going and to lessen the deficit.
Love,
Minerva Durham, Founder and Director
Spring Studio a/k/a Minerva's Drawing Studio
917-375-6086
springstudio@earthlink.net
ALSO, an interview with Cheryl McGinnis:
https://www.facebook.com/cherylmcginnisprojects
WINTER 2017 EVENTS
Minerva's Drawing Studio
aka
SPRING STUDIO

293 Broome Street,
New York, NY 10002

Minerva Durham,
Director, 917-375-6086

---
- Free Classes (A Series)
on Thursday Afternoons on:
The Interaction of Color
by Josef Albers -- at 4:15pm
Sharon Denning teachs the sessions:
Each week a chapter in the book will be read aloud, then the participants will try to solve the problem presented with color papers.
The following week results will be pinned to the wall and discussed and a new chapter will be read.
---


Join us every Wednesday at 4:15 pm as Said Bouftass, anatomist who attended L'Ecole des Beaux-Arts and focused on the teachings of Paul Richer, lectures by drawing on the wall with in colored chalk.

FREE sessions of anatomy at Spring Studio as we draw disarticulated human bones on Thursdays, and Fridays from 4pm to 6pm between figure drawing classes.
Thanks and love,
Minerva

* * * * * * * * * * * * * * * * * * * *

MODEL TRYOUTS
(PLEASE SHARE)
Sunday, January 7, 2018, from 5:00 pm to 8:00 pm
Models may arrive when they wish from 4:45 pm to 7:30 pm, ready to do two one-minute, two two-minute, and one five-minute pose.
Each model will be booked for one or two sessions at Minerva's Drawing Studio a/k/a Spring Studio in the future. One booking will be for a class that I teach so that I can see your abilities as a model.
I, Minerva, who founded Spring Studio in 1992, tend to make slow, long-term relationships with models.
Artists who have drawn at Spring Studio may buy a ticket at the studio for a reserved seat for $20 or for a punch on their cards starting at 4:00 pm on January 7.
Artists new to the studio must buy a class card if they wish to attend the tryouts. Artists who have drawing cards may bring a guest for a punch on the class card.
Thanks,
Minerva

Minerva's Drawing Studio aka SPRING STUDIO
293 Broome Street, New York, NY 10002
Minerva Durham, Director, 917-375-6086
springstudio@earthlink.net