SEPTEMBER BIRTHDAY - OPEN HOUSE:
NOTE: This event happens this coming Monday, the 24th
Monday, September 24, Minerva's 80th birthday
FREE all-day-long OPEN HOUSE at the studio
293 Broome Street, 9am to 9pm

The OPEN HOUSE is FREE, but DONATIONS are always welcome.
Coffee time: 9:00 am
Coffee and croissants served
Drawing from 9:30 am to noon
PORTRAIT SLAM, We will all pose portrait for each other
in three 40-minute sets in order to draw each other.
We will put the drawings up on the front wall
(where the current 4th of July show now hangs) for everyone to see.
During the three sets of 40-minutes, everyone will pose one set and
will draw two sets.
LUNCH: 12:00 noon to 1:00 pm
salads, cheese, Armenian grape leaves, etc,
bring food to share if you wish
Nicolaides Lesson: 1:00 pm to 4:00 pm
DRAPERY a la Nicolaides, taught by Chuck and Kate
Birthday cake from 4:30 to 5:30 pm
wine, water, soda served
Performances and Gospel concert with LD Frazier
6:00 pm Leticia and Esteban dance, Nilaya performs, Elizabeth Hellman
reads a poem
6:30, or a little later, L.D.Frazier sings Gospel accompanied by
Andrew Hall on bass
wine, water, soda and refreshments served
Another Birthday Cake at 8:00 pm
The event will be LIVE-screened on Instagram all day long for those
who cannot join us.
Instagram link:
http://instagram.com/minervasdrawingstudioSPRING STUDIO a/k/a

Minerva's Drawing Studio
293 Broome St.
New York, NY 10002
Minerva Durham, Director

917-375-6086
- My 80th Birthday Coming-Up ON September 24th
- 4th of July Drawings,
- Gallery Hours: 4 to 6pm Mon through Fri.
- CONCERT link, Kuan poses, links
As my 80th Birthday approaches, September 24th,
I have a great deal of good will, but the studio's cash flow is dangerously low, so please come to draw and buy class cards, encourage your friends to do the same, or make a contribution to:
https://www.gofundme.com/minervasdrawingstudio

in advance of the annual autumn fundraising drive that makes up the yearly $40K deficit. (SEE below.)
Or, donate $50 in person and receive one of the charcoal and pastel drawings I've done on newsprint during my anatomical teaching sessions. Take it right off the wall. I've got lots of fine ones.

NEW GALLERY HOURS:
Spring Studio, a/k/a Minerva's Drawing Studio, 293 Broome Street, will be open to well-wishers and gallery goers weekdays between the afternoon and evening drawing sessions, from 4 to 6 pm, Monday through Friday.

VIEW DRAWINGS by 26 ARTISTS on the front wall
During the new gallery hours you can see some of the drawings done on the 4th of July. They are hung on the north front wall of the studio. The twenty-six artists represented are :
Austin Alexis / Lucy Biard / Ben Davis / Diego Bricero / Brucius / Charles H. Connelly / Minerva Durham / Sienna Hier / Charles Heywood Johnson / Kungee Kim / Kathi Kirkpatrick / John Koerner / Marc LaMantia / Ro Lohin / Kevin Marc / David Misialowski / Claude Martinot / Esther Mizrahi / Hussein Omar / Eleni Papageorge / Doug Rokaw / Ricardo Sisco / Paula Speer / Beverly Tall / Ricardo Woo / Susan Yung
Andrew Bolotowsky, flute,
Henry Oelkers, drum, and
Mary Hurlbut, soprano,
... on the 4th of July leading artists in chanting "The Earth Is Our Mother" arranged by Judith Sainte-Croix. Susan Yung has posted a vfdeo of the Annual 4th of July Concert held in the Broome Street corridor of Sara Delano Roosevelt Park,

https://youtu.be/_VVMJMl-iaQ

The ANNUAL FUNDraising drive this year begins soon
As noted above, I am launching the annual fundraising drive soon. I will announce dates for Sunday evening soirees at the strudio , admission by $20 donation. Please get in touch with me if you would like to perform or read during one of the soirees.

As noted above, I am hanging drawings on newsprint that I have drawn during my teaching classes and they will be available for a donation of $50, to be taken right off the wall.

I am always looking to sell my vintage paintings, especially the one I did in 1987 looking out of the window of the third floor studio I had in 225 Lafayette at the time.
VIEW Kuan on You Tube:
2012, Fred Hatt videotaped Kuan dancing She Can Be Anything
http:/youtu.be/S6pX3A5X2zw

View Kuan's most recent dance:
" Reception"
https://youtu.be/8PWnxn2YnaA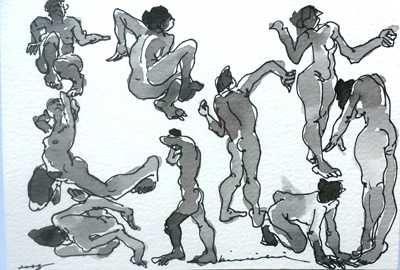 Kimchikim drew Kuan
Love,
Minerva