You are invited to a Reception for:
Minervas' Birthday
5:45 pm, SUNDAY, September 24th
L D FRAZIER sings gospel
for Minerva's 79th birthday
I can't wait till I am 80 years old
to hear my friend L. D. Frazier sing again.
Doors open at 5:00

7:00 pm Leticia and Esteban will dance

No gifts, please.
If you must bring something,
bring food or red wine.
Emma of the former ROCKY's
will be selling Italian food at her booth
in the San Gennaro festival
on the northeast corner
of Spring and Mulberry

RSVP "yes" only.
293 Broome St.
917-375-6086
SUNDAY, September 24, 5:00 to 9:00
---

Prints will remain up through September and can be viewed
M-F, 4:00 to 6:00 pm.
RSVP: "Yes" only: 917-375-6086
Thank you for your continuing support,
---
I have been showing old large drawings of
my daughter Teva and one of
Virginia's favorite chair that I did
when I first came to New York.
The chair drawing is below.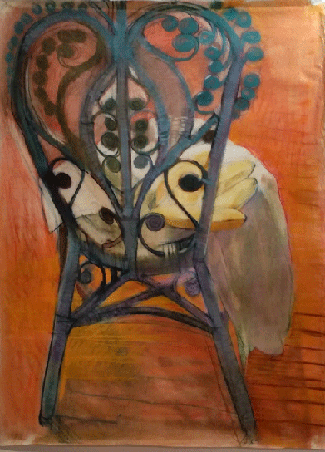 NOW ON VIEW AT SPRING STUDIO,
293 Broome St, 10002
Virginia's Favorite Chair for Models to Pose In
Pastel on paper about 1979
FALL 2017 EVENTS
Minerva's Drawing Studio
aka
SPRING STUDIO

293 Broome Street,
New York, NY 10002

Minerva Durham,
Director, 917-375-6086

---
Paul DeRienzo's: Live Interview of Minerva
on "Let Them Talk"
This Video Was Done on August 22nd from
Paul's public access show, now on You Tube.
Please post the interview on social media if you can.
Click on Link below to view on UTube:
https://www.youtube.com/watch?v=kZFSB0r-QUY&feature=em-share_video_user
---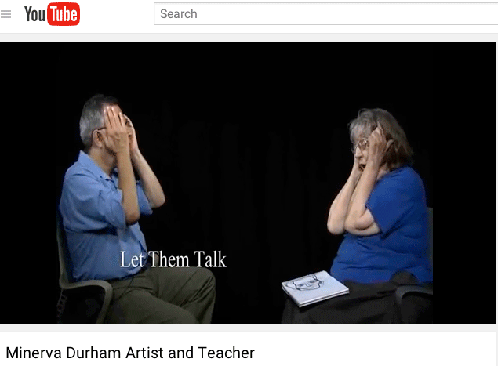 DeRienzo and I demonstrated the Munchian "SCREAM" move
that leaves visible the frontal plane of the face.
Thanks,
Minerva
---

ALSO

Join us every Wednesday at 4:15 pm as Said Bouftass, anatomist who attended L'Ecole des Beaux-Arts and focused on the teachings of Paul Richer, lectures by drawing on the wall with in colored chalk.

FREE sessions of anatomy at Spring Studio as we draw disarticulated human bones on Thursdays, and Fridays from 4pm to 6pm between figure drawing classes.
Thanks and love,
Minerva

* * * * * * * * * * * * * * * * * * * * *